Humans are creatures of habit, but not all of our habits are good for us. We all have bad habits we would like to break, but when it comes to actually stopping them, well, the path to success is a bit unclear.

Whether it is binge eating donuts at work, smoking, impulse buying yet another pair of shoes, or putting off work assignments until they are actually due, if you can break your patterns of behavior, you can break the habit. But where do you begin?

According to author of The Habit Change Workbook, James Claiborn, PhD, the place to begin is with a list. He suggests that to break a habit, you need to break down why and when you do it, then address alternative actions in a second list that provides you steps to follow. He says measurement and examining anything you do makes it easier to change it and a list is the ideal way to break down your actions.
Break Down Why You Have This Habit
Write out a list of the pros and cons of this behavior: How does it impact your life or your relationships? How does it make you feel at the time you are doing the habit and how do you feel about yourself later? Is it bad for your health? Does it impact your work or your chances at future growth and success on the job? Does it cost you a lot of money?
Keep a record of when you fall prey to the bad habit: According to Oprah.com, the best way to break an unhealthy habit is to pause and think about the habit at least five times a day, and ask yourself exactly how you are feeling when you are about to engage in it. Next ask yourself, "What is it that I want or need?" Basically there is an emotional reason for many of our habits, good and bad. Identifying it clearly helps us understand why we do what we do and then be strong enough to stop the bad habits.
Record when during your day the habit calls to you. How are you feeling at the time that supports you continuing the habit? Are you hungry, anxious, sad, or bored?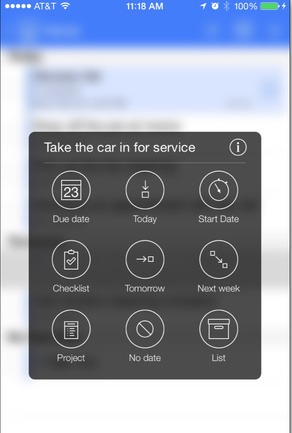 Make a List of Alternative Actions
Now, create another list of things to do instead of the bad habit or some simple rewards for not doing whatever the bad habit is. Add a place to checkoff when you were successful at diverting your actions to avoid the bad habit, basically keep track of each small success along the way.

This may sound like a lot of lists to manage, but there is a simple way to create and be reminded of your progress (and potential temptations) every day. How do you best organize them in terms of your steps, alternative choices and overall accomplishment?

The ideal solution is getting task management software, like Todo, one of the best, popular to-do list task manager iOS apps available.


Use Your Lists to Stay Motivated
The Todo app is easy to download or use via the Cloud, and it allows you to have all these important tasks and checklists at your fingertips. Your lists can be synced so that your motivational checklists can be found on your iPhone, iPad, Mac, or Android device. It also has a Web interface.

Todo lists will help you track your progress and remind you what your bad habit temptations are so you can avoid them. There are also alerts you can set that will keep you on track in breaking that bad habit and reaching your goal.

You can also use it for a host of other tasks and lists, both personal and at work, so your overall organization can benefit greatly, while you break down your bad habits. The app has focused To-do Lists, it allows you to star special important tasks, gives you Multi-level Priorities for entries, and has a section to manage large projects.

Todo keeps your checklists for work separate from the ones for your personal life. So, there is no worry about having too many lists to keep track of, because Todo does it for you.

With an award-winning app to oversee the steps you must take to break a bad habit, and provide hints and motivation to stay on track, you can take control of your future and the habits you keep. Download Todo now!